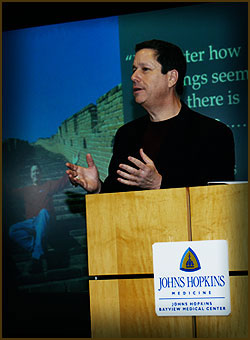 Speaking • Workshops • Book Signing
Invite Keith to light up your next corporate, group, college or association wellness event.
Keith is a Lifestyle Change Expert that Specializes in Overcoming and Preventing Heart Disease and Obesity Issues
Heart Disease and Obesity are the #1 and #3 Leading Causes of Death in The United States. They are also the most preventable.
We are a nation that loves a quick fix but often has nowhere to turn for solutions. Heart disease kills over 600,000 people a year and over 30% of the population is considered obese. Adult and Childhood obesity is at epidemic proportions with no signs of slowing down. The facts are — that as deadly as these two diseases are, they are also the most preventable.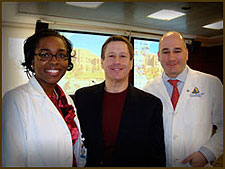 Heart Disease, Obesity and Physical Inactivity are in the Spotlight. No one knows this better than Keith Ahrens. Keith survived life saving open-heart surgery and has lost over 200 pounds without weight-loss surgery. Keith is uniquely qualified to deliver practical solutions and a timely message of the hope, possibilities and the benefits of a healthier and ultimately happier life. Keith Ahrens is the Lifestyle Change Expert to give your audience the courage to take the first step.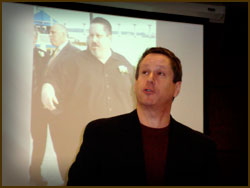 Keith can easily participate in your next event or serve on a panel to share his story and deliver his strong inspirational and motivating message. Keith is an outstanding public speaker and loves to share his solutions and methods.
Keith will talk about the amazing journey he has gone through and will engage his audience to think about their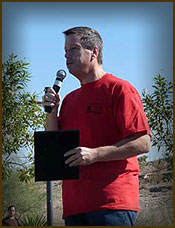 own well-being. They will come away understanding and realizing that there is no time, like now to make the decisions to change their lives.
Keith will work with your meeting planner, event coordinator, or human resource department to customize or focus his presentation on any key areas you would like to benefit your group.
A Few Possible Timely -Topic -Titles for Your Next Meeting:
He Couldn't Lose a Pound to Save His Life, and THEN HE HAD TO!
Six Sensational Secrets to Feeling Younger Everyday.
Putting the "Health" Into an Unhealthy Marriage.
10 Easy Exercises You Can Do In Your Cubicle.
No Viagra Required! Stimulate Your Sex Life With Six Easy Tips.
Is What You're Eating Killing Your Kids?
Could You Lose 10 Pounds If It Would Save Your Life? How About 200? I DID!
A Sedentary Nation Sits Still. I Say, "Stand Up and Move"
If someone was going to harm your child, would you defend your child? So why not Defend Them Against Heart Disease and Obesity!
Availability:
Nationwide and International By Arrangement
Also Available as a Last Minute Guest

Speaking Testimonials:
Thanks again for coming to Johns Hopkins Bayview Medical Center as our guest for the annual American Heart Association's American Heart Month. Our staff and patients learned a tremendous amount from your personal struggle with obesity, coronary artery disease and, in many cases, how to apply what they learned from you to their own patients. Yours is an inspirational tale worth telling and hearing.

– Dr. Glenn A. Hirsch, MD, MHS, FACC
Johns Hopkins Bayview Medical Center
The positive impact you have had on our office has been tremendous. It can be seen in our team member's daily walks around the building and willingness to change their lives. Your impact can be felt in our team's transformation and in their own personal journey for constant improvement. Keep up the good work. Your story inspires us all." Thanks for coming! You are making a difference.

– Tal Buset, RBC Manager, Wells Fargo
Thanks so very much for sharing your phenomenal story with us! It was an honor to have you visit Johns Hopkins!

– Dr. LaPrincess Brewer, MD
Johns Hopkins Bayview Medical Center
I wanted to thank you again for speaking to our office yesterday. I really enjoyed it and I know the managers are getting lots of positive feedback.

Your passion and enthusiasm are truly inspiring! You demonstrate that when a person really sets their mind to something, there is nothing they can't accomplish.

Keep inspiring, you're making a difference!

– Cynthia Ginsberg, Lending Manager, Wells Fargo
We were delighted that Keith accepted our invitation to speak at our Heart Month activities. Keith Ahrens provides an inspirational example of the amazing cardiac benefit obtained by changing to a healthy lifestyle. He is able to connect with other patients who are struggling with heart disease and provide supportive inspiration because his message comes directly from personal experience. It is clear from his talk that he is motivated by a genuine desire to help others achieve success and prevent heart attacks.

Dr. Pamela Ouyang MBBS, FACC, FAHA
Professor of Medicine Deputy Director of the Institute for Clinical and Translational Research
Johns Hopkins University

Director, Johns Hopkins Women's Cardiovascular Health Center Division of Cardiology
JH Bayview Medical Center
Keith motivated our patients and staff who attended his presentation. Many people felt the emotional connection in his journey with heart disease and obesity. Our patients were relieved to see someone so freely expressing a similar experience to their own event to know they are not alone.

– Debra Franckowiak, Clinical Exercise Physiologist, Cardiac Rehabilitation
Johns Hopkins Bayview Medical Center
By sharing his story today, Keith has not only succeeded in making a huge difference in his own life, but he has succeeded in making a difference in the lives of countless future clients of my students. His message is heart-felt – both literally and figuratively! Keith speaks of rational health behavior choices – not quick cures and shallow successes. Keith's story about the changes he needed to make in every aspect of his life, from food choices, to activity participation, to social relationships are evidence that health can be regained. This message is long overdue for so many of us. But Keith reassures us it is not too late. Keith provides hope.

– Karen Picus, EdD, OTR/L, Associate Professor
Touro University
Thank you for sharing your journey with the health and physical education teachers in the Howard County Public School System. It was very important for them to hear your story on both a professional and personal level. Congratulations on what you have done to live a healthy lifestyle.

– Linda Rangos, Coordinator of Health and Physical Education
Howard County Public School System
I had the opportunity to hear Keith speak to several hundred coaches and personal training professionals. I must say that I thoroughly enjoyed his story, delivery, passion and most of all, his message. I found that the lessons and inspiration he shared with us I am using with my family as well as my team. Keith, You've made a difference in my life and the lives of those around me.

– David Cornblatt, President
AlchemAid, LLC
Use the form below to inquire about having Keith Ahrens speak at your next event.