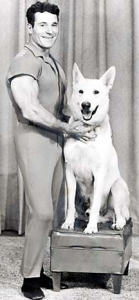 On Sunday, America and the world lost a health and fitness icon.
Jack LaLanne, The Godfather of Fitness, passed away at the age of 96.
I'm having trouble finding anyone that compared to LaLanne.  He was the original, the first, and the leader of the modern fitness movement.
LaLanne influenced and inspired more people to get fit and live a healthier life than anyone I can think of.
When I look at LaLanne's website, J
ackLaLanne.com
, It's hard not to be in awe of his accomplishments and achievements.
What impressed me so much with LaLanne is that he always approached fitness in a way that made it so easy for the sedentary to understand. He made fitness approachable.
With such a sedentary nation, video games, inactivity, poor eating habits, and other factors, perhaps we need LaLanne now more than ever.
Because of LaLanne, fewer of us will be in a hurry to get to heaven and heaven will just have to wait a little longer for us.
R.I.P. Jack LaLanne.  Thanks for everything – Keith