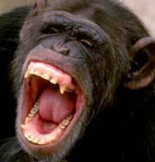 I love to laugh.
I prefer a good comedy or television show that will make me smile or laugh.
A good laugh can send 20% more blood flowing through your entire body.
When you laugh, your blood vessels expand and contract just like when you exercise.
When you watch a funny movie for example, your blood flow increases.  Laughter's a great stress reliever too. Laugh often and help your heart.
I'm waiting for Hangover 2 and hoping it's funnier than the first.  What movie made you laugh hysterically? – Keith