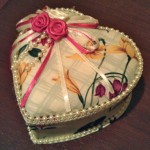 Merry Christmas, Happy Chanukah and Heart Healthy New Years Wishes to Everyone.
The greatest gift I receive has no wrapping paper, no bow, no name tag and yet I'll know it's for me.
My gift is — Another Day.
Living with Heart Disease and getting a second chance means I take nothing for granted, ever.
The lights on the tree are brighter, each ornament is more special, the turkey smells better, the cold air feels fresher and the kids playing and running will sound like a symphony.
When I tell her I love her, she knows it's forever.  What a year, What a life.
Treat Everyday As Christmas…  Everyday is a gift. – Keith