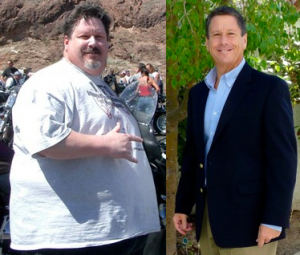 Keith Ahrens of Las Vegas inspires lifestyle change
This article appeared in the American Heart Association's Western states Affiliate April Newsletter.
It took a near-death experience to wake up Keith Ahrens. At the age of 45, the Las Vegas businessman was tipping the scales at over 400 pounds and led a sedentary lifestyle. He hadn't seen a doctor in years.
That was four years ago. Today, Keith is 200 pounds lighter. He's a dynamic advocate and spokesperson for the American Heart Association, sharing his story to help others avoid the denial which almost killed him.
Keith neglected his health, had terrible eating habits and avoided physical activity for years. After experiencing classic symptoms of heart disease – shortness of breath, dizziness and nausea – he finally went to a doctor in early 2007. Keith was having a heart attack and a triple bypass operation was required to correct it.
He explains, "After I got that second chance which many heart attack victims never have, I saw it as a great opportunity to help others by putting myself out there as a voice for change."
It was a new beginning. He changed his eating habits, started walking for exercise and participated in his first Start! Heart Walk in 2009. His dramatic weight loss and energetic, new outlook on life won him the Heart Walk Lifestyle Change Award that year. He was the top Walk fund-raiser in 2010 and is on the planning committee for this year's event.
Keith put his communications talents to work writing a book to inspire others to follow his path to healthy living.Outrunning My Shadow:  Surviving Open-Heart Surgery and Battling Obesity. The Decision to Change My Life is the title of his book and he maintains a webpage to project his message of self-help. Keith became a Certified Fitness Trainer and Specialist in Fitness Nutrition and began using social media networks to encourage others to improve their lifestyle.
A member of our grassroots network, Keith speaks out often on the local and state level and recently returned from the AHA's You're the Cure Congressional Lobby Day in Washington, D.C. Keith has also earned his Basic Life Support (BLS) Instructor Certification from our Emergency Cardiac Care (ECC) program.
"If someone in your life is affected by heart disease," Keith says, "do something. Get involved with the American Heart Association – help save lives."