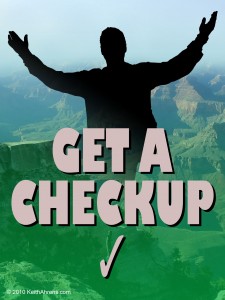 Have you scheduled your checkup for this year?
I had a routine follow-up appointment with my internist today. All of my blood work came back excellent and my blood pressure was an outstanding 110/70.
We were talking about early detection and how a large number of patients put off their regular appointments until a problem complicates itself or progresses for no reason at all.  Note: The people we were talking about were all people with insurance.
Early detection is critical in the treatment and prognosis of any disease or illness.
Remember, almost 4 years ago a routine EKG detected a heart abnormality on me.  It ultimately helped save my life.
I tell everyone to get a checkup. The doctor may tell you everything looks great or he may tell you there's an issue that needs to be addressed.  Either way it's a win win situation.  By this I mean if there is an issue that's detected then you can tackle that problem.  It's much better to know of a potential health problem and be able to treat it then to let it go unnoticed and get worse.
So, when is your next doctor's appointment? – Keith