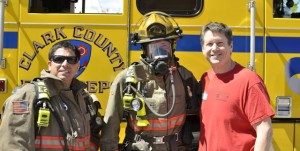 Today was a blast… of Water.
The Jump For Joy Foundation had another camp today.  I love these camps.
Fighting the rising Childhood Obesity Epidemic by getting kids physically active is "Camp Jumps" primary mission.  Arming the parents with the knowledge they need to help their children eat healthier and stay active is another mission.
Bill gave another outstanding nutrition class to the parents.  Anthony and Branden worked tirelessly to keep the kids moving.  The many volunteers tried to keep up with the kids and always had a smile on their face.
Today's theme: Firefighters Boot Camp.
Firefighters from The Clark County Fire Department came to the camp today in full gear.  They used fire hoses, relays, and fitness drills to get all the kids involved in fitness.   To have these Hero's come and work with the kids was Amazing and Inspiring.
The firefighters explained the importance of staying fit and eating healthier foods to stay in shape with the kids.
The highlight came at the end of camp when everyone went outside and saw a Paramedic Ambulance, a Huge Fire Truck and an even Bigger Ladder Truck.
The firemen repositioned the Ladder truck, raised the ladder, had a very brave firefighter scale 6 stories in the air and turn on the fire hose cannon.  At 800 gallons per minute this site was awesome.
They also let the kids grab hold and discharge a fire hose and spray the parking lot.
All I could say was "WOW".
The Jump For Joy Foundation is doing excellent work.
Visit their website and learn more.  Click Here "JumpForJoyFoundation.org"
Have a Heart Healthy Day and Keep Moving America. – Keith