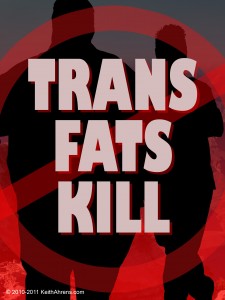 Nevada Senate Bill SB230, a bill that would require school districts to develop a policy to ban foods containing trans fat from being provided in schools, is now scheduled to be heard on 
Monday at 3:15pm
in the Assembly Education Committee.  I will be testifying again in support of this legislation.
As many of you are well aware, trans fat is a double threat to our cardiovascular health because it has been shown to both lower our good cholesterol (HDL) and raise our bad cholesterol (LDL), as well as cause arterial inflammation.
Schools should be places where we strive to make available the healthiest foods possible, and with plenty of alternative oils that can now be used, we should not be providing food to our kids that contains trans fat.
KEY POINTS
•       Consumption of trans fat (trans fatty acids) are very harmful to our health.  Consumption of trans fat raises your 'bad' (LDL) cholesterol and lowers your 'good' (HDL) cholesterol levels.  It also causes or is a contributor to heart disease, diabetes, insulin resistance, hardening and clogging of the arteries, etc.
•       SB230 requires school districts to develop a policy to ban foods with trans fat from being provided to students at schools and would apply to school sanctioned programs and athletic events, etc.
•       Banning trans fat does not mean banning 'junk' food.  Foods of minimal nutritional value are regularly made without trans fat.  Items such as crackers, pizza, pastries, etc. would still be allowed to be served/purchased at schools.
•       Over the past decade many food manufactures have reformulated many of their products to eliminate trans fat by using alternative oils that are readily available.  Consumers have demanded trans fat free products are they are now widely available.  This will minimize any burden to schools.
•       Schools should be places where we strive to serve our children the healthiest food possible.
Thanks, Keith