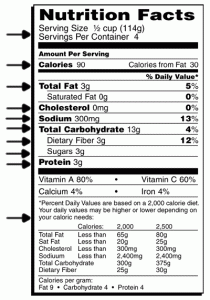 With National Nutrition Month in full swing it seems like the perfect time to get reacquainted with the Nutrition Facts on food labels.
The FDA has a very easy to read Food Label fact sheet.
Click here for Food Label info from the (USFDA) Food and Drug Administration
In recent years I've become obsessed with reading food labels.
I simply can't tell you how many items I pick up in a grocery store, read the label, and put back on the shelf.
When you learn to read labels, it only takes a split second to identify 90% or more of unhealthy foods and ingredients.
The two primary ingredients that I Zoom In and Zoom Out on are Saturated fat and Sodium.  If these two items are out of whack, the item goes back on the shelf.  Saturated fat and Trans fats are not healthy fats.
The key with Total fat in a product is the make up of the fat.  There are typically 4 possibilities including: Saturated Fat, Trans fat, Mono-unsaturated and Poly-unsaturated fats.  In general, the latter of the two being primarily healthy fats.
Make no mistake that our bodies need fats to survive but it's the type of fats that are either heart healthy or heart destroying.
The goal with the healthy fats is to consume and use them in moderation because of their high caloric content.
If an item has ANY Trans fats put it back on the shelf immediately.
Everything has importance on a food label. Take a close look at sugars, carbohydrates, dietary fibers and protein.  Depending on what your nutritional and dietary goals are you'll pick up certain foods with higher concentrations of certain ingredients.
Learn to read food labels and Learn to Live – Keith