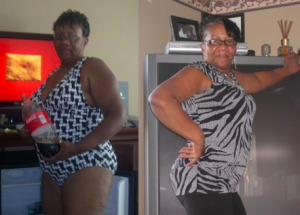 Describe your success and what factors led you to change your life?
On August 20th, 2010 I had a Life Changing Experience. That experience will haunt me for the rest of my life.
My grandmother (age 42), my mom (age 62) both passed away at this age from the same exact thing I just survived.  Heart Disease and Heart Attack runs on the female side of my family. I knew this when my mom passed in 1992. That information was put into my health filed and collected dust.
On January 29th 2010, I under went a Rotator Cuff repair (shoulder surgery). That's when things began to change for me.  I couldn't take meds with out eating food. I was not cautious what I was consuming.  My weight spiraled out of control without me even knowing.  7 months later I was weighing 191 pounds as I lay in the hospital bed.  Standing at 5'6, I weighed 160 pounds before my shoulder surgery.
It was a Friday morning on August 20th 2010 at 3:45 a.m. I deliver the daily newspapers for 179 customers 7 days a week.  As usual, I left my house at midnight and started delivering the papers at 12:45 am.  I finished half my route when I found myself throwing up on the side of the road and at times pooping.  Yes u heard me.  I kept pushing myself to finish my route not even knowing what was about to happen to me.  This is how dedicated I am to my customers.  Then it came to a point where I was getting tired and was not remembering where I was.  I called my boss. I was in an area where cell phone service was poor.  My cell phone lost signal twice with me calling him back to let him know my location.  I went back to my car because I couldn't walk another inch.
While sitting in the car I figured to call 911. I couldn't even talk. I was so busy throwing up and pooping on the side of the road.  I couldn't even talk to the dispatcher.  I don't remember too much of what happened next.  All I remember was my boss waking me up from being slumped over the steering wheel of my car.
When the EMT's arrived I heard the one E.M.T laughing at me cause he found me bent over pooping and throwing up.  Just another part that will haunt me for the rest of my life.
It seems that anything that could have gone wrong — went wrong.
Because I didn't have the symptoms of a heart attack, I was treated very slowly.  No rushing TO the hospital and no rushing AT the hospital.  Remember, this all started at 3:45am. By the time they realized I was having a heart attack it was almost 6am.
They finally called out a STEMI Team which is a Specially Trained Emergency Heart Care Team at 5:52am.
What was the journey like?
How did you do it?
My life has since changed drastically.  I'm on a Low-fat, Low-sodium Diet.  I eat as many fruits and veggies as possible.  I eat sugar free jello, yogurt, applesauce, and low-fat sugar free sherbet.  When I eat meat its once a week, baked, broil or boiled.
No fried foods at all. I use to eat fried foods just about every day.  The day of my heart attack I had French fries with lots of gravy ugh.  Just the thought of it makes me sick to my stomach.
I'm on 5 medications and I drink 5-20oz bottles of water a day.  After 2 stents in my heart, another stay in the hospital overnight, 9 days after my heart attack I was right back out there doing what I loved doing.
How do you feel now and where are you going?
It took a heart attack for me to realize the importance of eating right.  Now that I have gathered all this information I have passed it on to my mothers only living sister, my 2 sisters, my daughter and my female cousins.
The scary part of this whole story is my mother was pregnant when her mom died.  I was pregnant when my mom died.  My daughter in-law was pregnant for my grandson when I had my heart attack. How strange is this? My heart attack came 4 days before my mom passed away 18 years ago. Now when some one gets pregnant I think of this. 42,,,52,,,,,62,  you tell me, is this strange or what?
I weighed 191 the day of my heart attack, and was 177 when I went to see my cardiologist at my 4-week check up.  I lost another 3 pounds and now weigh 174.
My goal is to get down to 160 pounds. That's what my weight is supposed to be with my height at 5'6.
What inspires or motivates you?
I don't thank God enough for saving my life. I have a whole life ahead of me and that's my lovely grandchildren.  I was able to see the 5th grandchild born and, of course, I cried.
This heart attack has caused me to look at myself differently now.  Thanks for reading my story.  Of course this isn't an exact detail to detail of everything that happened to me. I tried to save some horrific phrases out.  Pooping was bad enough.
Thanks for letting me share, Bess M.S. Robertson
P.S. (M.S.) stands for Matilda & Sophia. I was named after both of my grandmothers.
Please share your comments and words of support for Bess below.