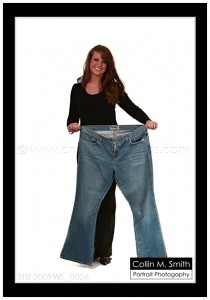 Describe your success and what factors led you to change your life?
At the age of 17 I was tipping the scales at 230 lbs. I was obese and very unhappy with how my life was turning out. One day, I decided that enough was enough. I made a change that would effect my life forever, in many ways I would have never thought. I started off with a small goal to lose 10 lbs. After losing those 10 lbs. I made another small goal and so forth. Today, I have lost over 100 lbs.It is a constant battle, but not a battle I am not willing to fight. I had the opportunity to compete for the title of Miss SC, a dream I had had since a small girl. I competed in a local pageant, won, and made my own personal platform "Eating Healthy and Fighting Obesity". I have a facebook fanpage that allows me to connect with over 2,500 people from across the world. I speak to schools,organizations, and individuals daily about the importance of our health.I share my own story to encourage others that anything is possible through hard work and perseverance. I made it all the way to the top 10 in the competition and strutted my new body in a two piece bathing suit. Everyday is a new adventure and I push myself to see what else I can accomplish. Without losing over 100 lbs. I don't know where I would be today. It has become my life passion to encourage others that we have the power to control our lives and the way we live. I am currently working on my group fitness certification and was honored with the Lifestyle Change Award from the American Heart Association.
What was the journey like?
The journey for me was not an easy one. My whole family has always been stick thin, eating whatever they wanted. My lifestyle change made my family change as well. Leaving the junk food behind was very hard for me because it was always around. My high school only served fried, greased, buttered, cheesy, foods. I had to learn how to plan accordingly. I packed my lunch and stayed away from the devilish foods that were being served. Exercising was something I had to get used to and now, I couldn't go a day without it! I started off only being able to walk 15 min. and run 30 seconds or less! I now run 6-9 miles a day, weight train, and do group fitness classes. This is one journey I will never regret. It's been hard but I would never take it back. It has made me who I am today. A strong, confident, motivated, and driven individual.
How did you do it?
I started off with setting a gaol of 10 lbs. After I lost the first 10, I decided that I wanted to lose another 10. I ended up losing 13 lbs. I was so excited that it motivated me to continue setting goals for myself. (Which, I still do to this day) I joined the gym and stocked up on fresh fruits, vegetables, and lean meats. I learned how to cook and avoided fried greasy foods. My exercise has helped me the most and has made me stronger than I ever thought I could be. I never knew I could be so physically fit.
What are your top 3 tips for success?
1) Never NEVER say the word DIET. You are not going on "another diet" you are simply changing your lifestyle and the way you look at things. As with a car, it needs gas to be driven. Not just any gas, but quality gas. We as humans need food to live. As with the car and it's fuel, we must have quality put into our bodies to be quality humans. This helped me when I looked at food for comfort and not for living healthy.
2) Get sweaty- The more you sweat the more calories and fat you burn. Don't be afraid to try new and exciting exercises! I competed in my first mud run and it was a new and dirty challenge that made me appreciate what my body is designed to do.
3) Tell yourself everyday that you CAN do it! Don't wait around for others to motivate you, but motivate yourself. Every morning I wake up and tell myself that today is a new day and I can do anything I set my mind to!
What inspires or motivates you?
At first, my inspiration was to get healthy. I was sick of being sick and having asthma and my doctor told me that if I lost weight I could possibly get off my inhaler and be at less risk of heart trouble, diabetes, and other diseases caused by obesity. Now, after winning Miss Florence and creating my platform, it is those who share their stories with me that motivates me. Also, having others to ask me for help and tips to weight loss motivates and inspires me to never give up and to always fight the good fight.
How do you feel now and where are you going?
I FEEL AMAZING. I have not used my inhaler in almost 2 years, I hardly ever get sick, and I have energy that shoots through the roof! I am so proud of myself and what I have accomplished. Everyday is a new challenge and I look forward to the future more than ever knowing that I can do anything I set my mind to! After losing over 100 lbs. every other obstacle seems like a piece of cake!
You can follow and join Bree's fan page on Facebook – "Eating Healthy and Fighting Obesity"