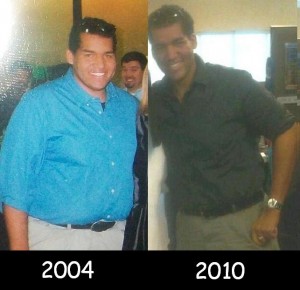 Describe your success and what factors led you to change your life?
I was tired of having to go to special stores to buy clothes and being the "fat guy" in the pictures with my friends. One day I decided something has got to change. I never felt sick or unhealthy but I knew the days of feeling comfortable were limited if something didn't change. Diabetes and High Blood Pressure run in my family and I did not want to become a victim. I started off small, exercising lightly 3 times a week and progressed over time. I started out walking, which led to running, which led to Boot Camp classes, and now I compete in 5K's as well as other obstacle runs. I have lost 80 pounds to date and trying to shed a few more. I don't focus as much on my weight as I do on how I look and feel. I set my fitness goals on a weekly basis.
What was the journey like?
The journey has been a roller coaster. There were definitely more ups than downs but it is not an easy road (however if I can do it, anyone can). The trick is to stay disciplined and most importantly, try to find a way to make it fun!
How did you do it?
I got active and made better food choices. Activity is definitely the most important factor for healthy living altogether. I won't say I really ever "dieted", however I will say I've made better food choices as well as controlling portion sizes. You also have to get in the right frame of mind and think that we "eat to live" and not "live to eat". There were times I would crave a nice juicy burger and just go for it. I was happy while eating it for a couple of minutes but afterwards I would kick myself and ask why I ate that. You have to ask yourself what is more important, a few minutes of satisfaction or life of good health? Do I always eat healthy and make the correct choices? Absolutely not, but it's a goal I hope to eventually stay with.
What are your top 3 tips for success?
1) Have fun! Have fun!! Have fun!!! Did I mention have fun?? The reason I emphasize this because instead of looking at exercise as a chore, find a way to have fun with it. I am an all around music junkie so in my case, I use running as a reason to have a good jam out on my IPOD. Also, don't be competitive; just do the best you can do. You have your good days and your bad. Celebrate the good workouts, and laugh at the bad ones. Today there are so many kinds of exercise programs; there is at least one that can be made for anyone whether it is yoga or Zumba.
2) Find a support group. If you join a gym or even on a social network group, post your activity. You will meet friends with similar goals and instead of hanging out to go eat, meet each other for walks.
3) Stick with it! Don't give up. Yeah I have slacked off some but you always have to pick yourself back up.
What inspires or motivates you?
Wow, I'm not sure I know where to begin. There are people I see at the gym all the time that it takes all they have to even walk. There are also a few people I see with personal trainers that are in wheelchairs and they are on the weight machines. If they can do it, I have no excuse. With my success story I have had a couple of peers getting into working out and they inspire me! I'm single without children and to see people with families find time to fit exercise into their schedule, that really keeps me going.
How do you feel now and where are you going?
I feel great now however I feel challenged as well. Our nice warm days are numbered and to those that know me, I despise cold weather. I am going to have to get myself re-acquainted with the treadmill and saying goodbye to the nice warm long runs outside. Not to mention the holidays are coming up which means there will be food all around no matter what. I will try my best to keep the mind frame of food being just a temporary satisfaction and choose the celery sticks over cheese balls.
The next big event I have planned is the Palmetto State O-Run in March, which is a 4.2-mile run with 30 obstacles. It is a team event, which we all are excited to accomplish and most importantly have fun with. Until then, at least 5 days a week of activity (45-90 minutes).
Nicholas is on Facebook and his message is to Have fun! Have fun!! Have fun!!!