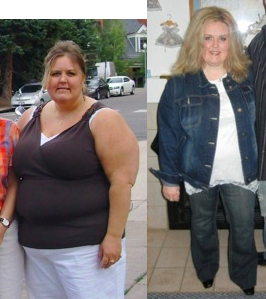 Describe your success and what factors led you to change your life?
My REAL weight loss journey started in July 2010 when I finally realized I needed to make drastic changes in my life and health!
I started the journey @ 309 pounds and to date I have lost 70 so I need to lose 70-80 more at least.
I had my doctor do all my blood work. I found my triglycerides to be elevated in the 400's and my blood pressure was high.  I've been taking BP meds since 2003. (You would have thought then I would have woke up)
The doctor told me I had Syndrome X (A metabolic disease). I was also a diabetic.
In addition to wanting and having the desire to be healthy, another huge motivating factor are my husband and children. I have a daughter that is graduating from high school and in 3 yrs my other daughter will graduate.
I want to be around a long time to see both of them grow and make lives for themselves.
What was the journey like?
So far my journey has had so many ups and downs, emotionally and physically! I have come to realize this journey is more mental than anything!!
Whatever You Think…You Are!
I make it a point to think of myself as successful. Don't get me wrong, they're many days when I feel defeated but I go to the Facebook page I created and see others success and that gives me a big boost of "I CAN DO IT".
How did you do it?
When I first started I did Optifast (a hospital run program) for 3 wks and it was HORRIBLE!!
I could only drink shakes, soups and eat fruit/chocolate bars. Eventually, my insurance stopped paying so I wasn't able to continue through the hospital but I figured that by doing Optifast and losing 17 lbs in 3 wks I could do it on my own with diet and exercise AND FOOD!!! (Just the RIGHT food).
I started going to the gym and pool daily. I would walk on the treadmill then bump it up and run for a minute then back to walking then running about 10 times in a span of time. I would do the elliptical after the treadmill then hit the pool for another hour.
When I hit a plateau I continue to push myself.
What are your top 3 tips for success?
1. Commitment – You have to stay the course
2. Dedication – You have to make it your #1 priority for    instance not skipping the gym or your exercise video
3. Stay focused and don't give up- If you aren't seeing results quickly remember healthy weight loss is approx 2 lbs a week, some weeks might be more or less depending on your caloric intake and workouts.
What inspires or motivates you?
I felt inspired to create a page on Facebook called
Our Weight Loss Journey
,
It's a page for people to share their weight loss journey, whether they're having a good or bad day we're here for them!
When I read stories of success and hard work it keeps me going to be committed and stay focused.  I wanted to give back and give back what has been given to me.
If I didn't have people saying, "You can do it" or "Way to go" I might have thrown in the towel and quit.
How do you feel now and where are you going?
I feel great even though I've plateaued for the moment. I haven't seen big numbers in a while but in
3 short months my triglycerides dropped from a very dangerous 400 to 196 just by diet and exercise
.
I started a new workout routine called Insanity…I'm looking forward to doing more cardio workouts, losing weight again, building muscle and making my heart stronger!
Here is the link to the FB page:
Please feel free to visit and join our community.
You have to open it up and click "like" I hope to see you there!! – Shannon