Start by doing what's necessary, then what's possible and suddenly you are doing the impossible.

– Saint Francis of Assisi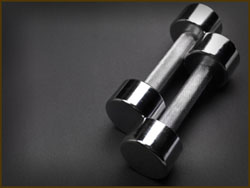 Always consult a physician or qualified healthcare provider before beginning any exercise or fitness program of any kind.
With a day filled with 1440 minutes in it, we should all be able to find at least 30 minutes for some type of physical exercise or activity.  Exercising on a regular basis is a crucial part of staying healthy and preventing many illnesses and diseases.
Exercise can help you maintain a healthy weight.  People who are active live longer and feel better.  It can delay or prevent potential heart problems, some forms of cancer and diabetes.
The sovereign invigorator of the body is exercise, and of all the exercises walking is the best.

– Thomas Jefferson (1743-1826) Third president of the United States
Most adults need at least 30 minutes of moderate physical activity at least five days per week. There are so many ways to be active, such as walking, bicycle riding, swimming, weight training, stretching, swimming, recreational basketball and so many others.  We can garden, mow the yard, clean the basement or whatever we can think of to stay active, and it will ultimately enhance our lives.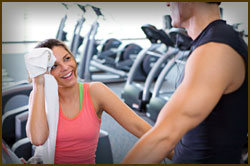 The key is to find the right exercise for you. If it is fun, you are more likely to stay motivated. You may want to walk with a friend, join a class or plan a group bike ride. If you've been inactive for awhile, use a sensible approach and start out slowly.  Starting slowly is key if you have been inactive or sedentary.  Don't worry, you will see results.
Remember to start slow.  Even the best athletes started somewhere. You know the old saying: "In order to walk a mile, you have to take the first step."
When I started my fitness program, I remember I couldn't walk 5 minutes without getting winded.  It's OK.  I started slowly and kept focused by not getting discouraged.
You can do it.  You can be your best motivator.
Oh yeah, the best part of starting and continuing any exercise program is that it is free.  I've yet to see the day where we charged people for walking around the block.
Here is a small list of some of the activities that can lead to better health.  Find what works for you and remember any amount of activity is better than none.
Aerobics, Archery, Badminton, Baseball, Basketball, Baton Twirling, Bicycling, Billiards, Bowling, Boxing/Kickboxing, Calisthenics, Canoeing, Cheerleading, Children's Games, Circuit Training, Cricket, Croquet, Cross Country Skiing, Curling, Dancing, Darts, Diving, Downhill Skiing, Fencing, Field Hockey, Figure Skating, Fishing, Foot Bag, Frisbee, Gardening/Lawn Mowing, Golf, Gymnastics, Handball, Hiking/Backpacking, Hockey, Home Repair, Horseback Riding, Horseshoe Pitching, Household Tasks, Hunting, Inline Skating, Jai Alai, Juggling, Kayaking, Lacrosse, Lawn Bowling, Lifting/Hauling, Marching, Martial Arts, Motor Cross, Mountain Biking, Mountain Climbing, Nordic Walking, Paddleball, Pedometer, Pilates, Polo, Racquetball, Rock Climbing, Roller Skating, Rope Jumping, Rowing, Rowing Machine, Rugby, Running, Sailing, Scuba Diving, Shuffleboard, Skateboarding, Skating, Ski Jumping, Sledding, Snorkeling, Snowboarding, Snowmobiling, Snowshoeing, Snow Shoveling, Soccer, Softball, Squash, Stationary Bike, Stretching, Surfing, Swimming, Table Tennis, Tai Chi, Tennis, Track & Field, Trampoline, Trap & Skeet, Unicycling, Volleyball, Walking, Wallyball, Water Aerobics, Water Jogging, Water Polo, Water Skiing, Weight Training, Whitewater Rafting, Wind Surfing, Wrestling, Yoga and so many more.